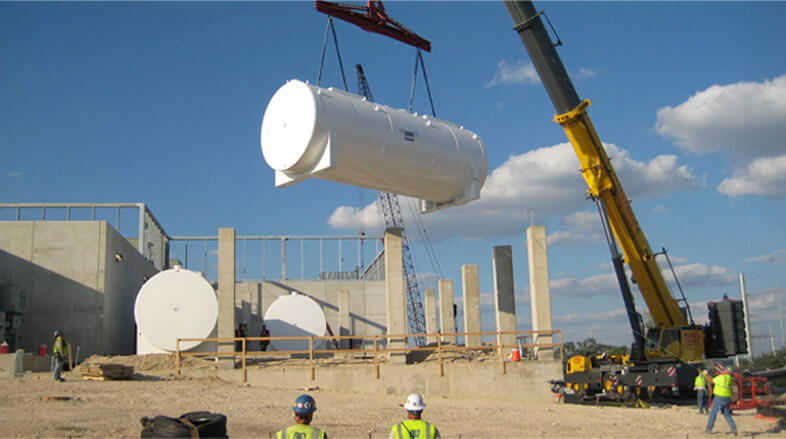 Integrated Fuel Construction Since 1991
UST Fuel Solutions delivers fuel system integration and construction expertise nationwide. Our extensive experience partnering with today's leading industrial and mission-critical customers nationwide highlights our broadened capability from custom equipment, systems integration, to fully integrated facility construction.
Our engineering staff pre-construction services offer the most efficient construction designs maximizing efficiency, budget and system capability. From design review and BIM modeling UST ensures construction and commissioning meet specification while exceeding operational cost and building ROI.
UST Fuel Solutions is a respected industry leader specializing in fuel system installation, construction and commissioning services. We have extensive experience partnering with clients from a vast array of industries including airports, data centers, medical facilities, military/industrial operators and more.
Our pre-construction services include detailed and comprehensive construction designs ensuring accuracy in budget development and smooth system integration.
American Airlines
"We at American Airlines feel very confident and at ease with a project or service that Unified Services of Texas, LLC performs for us, and that is a direct reflection of the company owner and his personal approach when dealing with us. American Airlines has forged a strong relationship with UST over the past 13 years, and highly recommend them as a preferred contractor to anyone that may be seeking an outstanding organization. I personally handle the relationship with UST for American Airlines and have nothing but great things to say about the integrity, caring attitude and professional accord that they have provided to us since day one."
Richard D. McDonald
AA DFW • Sr. Environmental Engineer • Project Manager
BHOC
"We highly recommend UST to valued customers with no reservations, because we know that they will not be disappointed."
Barney B. Holland, Jr.
Barney Holland Oil Company
GE Transportation
"UST continually demonstrated, from the initiation to the completion, their willingness to be a team player to complete the project successfully...These qualities are the highest level of any subcontractor we have worked with."
Jeff Tutam
Kajima Building & Design Group, Inc.
Bank of America Data Center
"It was great to work with a company that takes such pride in their work. It was a true pleasure working with a talented an dedicated company like UST."
Doyle Spencer
The Brandt Companies LLC
Oklahoma National Guard
"It is always a pleasure for me to write a letter of recommendation for contractor such as Unified Services of Texas, LLC (UST). UST demonstrated exemplary performance on a very complex project involving the repair and renovation of four (4) 20K gallon JP-8 fuel tanks at our Lexington Oklahoma Army Aviation Support Facility. On a scale of 1-10, UST rates a 9.5. They are a very competitive, experienced, knowledgeable and highly quality conscious contractor. Their business practices exhibit a very high degree of ethics and professionalism. "
George J. Verstraete
Branch Chief Construction, Contracting & Administration
RNB Engineering Services
"UST has proven to be a competent, competitive, experienced, knowledgeable and quality oriented contractor specializing in fuel system construction. Their business practices exhibit a very high degree of professionalism, integrity and ethical standards. I have worked on many projects with UST over the years – some of which are very complex with the most recent being the fuel expansion project for the City of Killeen Airport. I would gladly look forward to recommending UST again - a special company who works hard to provide the highest level of customer service. "
Richard Berry
President, RNB Engineering Services
Ambreco, Inc.
"UST performed quality work in a professional and timely manner keeping safety as its number one priority. It was a pleasure working with UST on this project and look forward to working with them again in the near future."
Robert O'Neill
Project Manager