icountPD - Online Particle Detector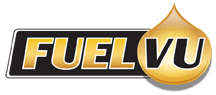 The icountPD Particle Detector represents the most up to date technology in particle detection. The design dynamics, attention to detail and moulding compactness of the permanently mounted, on-line particle detector module, combined with onboard, laser based technology, brings to all industries a truly revolutionary, particle detector as a remarkable cost effective market solution to fluid management and contamination control.
The small compact design allows versatile placement of the icountPD.
TYPICAL APPLICATIONS:
Earth Moving Machinery

Fuel Transfers

Fuel Storage Tanks

Vehicle Fuel Tanks

Fuel Dispensing

Uploading fuel into aircraft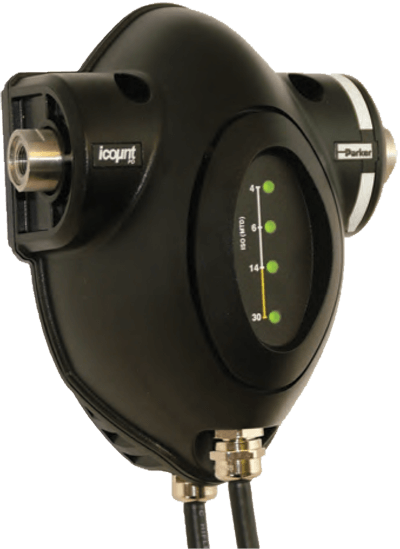 • 24/7 Monitoring of Fuel Condition 
• Compact design for small footprint
• Reporting Codes: ISO 7 – 21, NAS 0 – 12, (AS 00 – 12 Contact Parker). Icount will also report less than ISO 7, subject to the statistical. uncertainty defined in ISO4406:1999, which is shown in the RS232, reporting results as appropriate e.g ">6" 
• Performance: +/- 1 ISO Code (Dependant on stability of flow) 
• Reproduceability / Repeatability: Better than 1 ISO Code 
• Configureable measurement periods: 5 to 180 seconds 
• Configureable reporting interval: 0 to 3600 seconds Viscosity range: 10500 cSt 
• Operating temperatures: Operating Environment -20°C to +60°C (-4°F to +140°F) Storage -40°C to +80°C (-40°F to +176°F) Operating Fluid 0°C to +85°C (+32°F to +185°F)
• Working Pressure: 2 to 420 bar (30-6000 PSI) 
• IP66 Rated Certification 
• EMC/RFI: EN61000-6-2:2001, EN61000-6-3:2001 
• User friendly Abs construction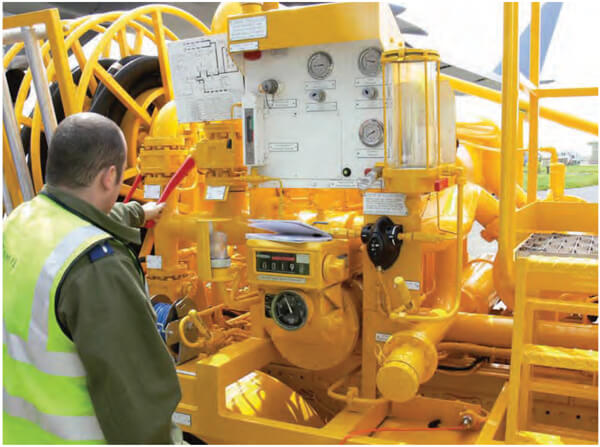 Uploading fuel into an aircraft with the icountPD in use to monitor as a "go..no go" device
• Independent monitoring of system contamination trends
• Warning LED or digital display indicators for Low, Medium and High contamination levels
• Visual indicators with power and alarm output warnings
• Moisture %RH indicator reports on the saturation levels of the fuel withing the range of 5% to 100% saturation (optional)
• Cost effective solution to prolong fluid life and reduce machine downtime
• MI2 8 pin or Deutsch
• Connector options.
• Continuous performance for prolonged analysis.
• Fuel, Hydraulic and phosphate Ester fluid compatible construction.
• Self diagnostic software
• Full PC/PLC integration technology such as:
– RS232 and 0-5Volt, 4-20mA,
• CAN(J1939) (Contact Parker for other options).
• Set up and Data logging support software included.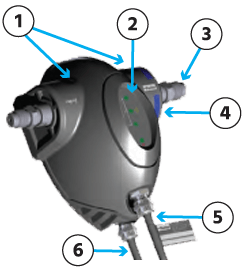 1. icountPD mount points to suit M5 socket head cap screw (see detail below).
2. LED or digital display.
3. M16 x 2 test points Note: 5/8 inch BSF test points for phosphate ester fluid application only.
4. Fluid compatibility Blue band = Mineral based oils Red band = Phosphate ester oils.
5. Communication cable 5 metre (16 ft) communication cable, or M12, 8-pin socket communication cable (150mm (6 inch) flying lead), or DT series Deutsch plug connector cable (150mm (6 inch) flying lead).
6. Supply and Limit relay 5 metre (16 ft) cable, or M12, 8-pin plug cable (150mm (6 inch) flying lead), or DT series Deutsch receptacle connector (150mm (6 inch) flying lead).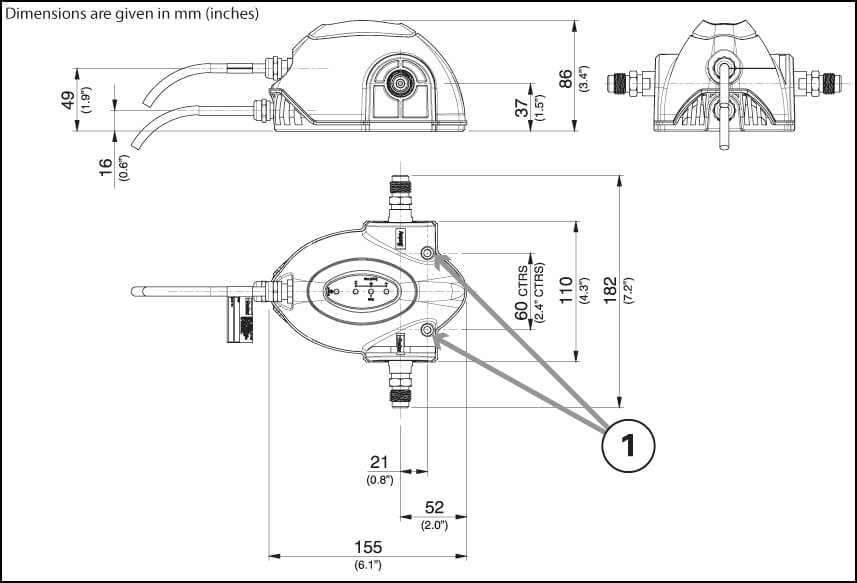 Dimensions are given in mm (inches)
1. Two mounting locations to suit M5 socket-head cap screw (supplied),
icountPD flange thickness = 10mm (0.4 inch) 
Maximum torque 7Nm